Product Summary
Microchip Technology Inc.s mcp9804t digital temperature sensor converts temperatures between-40°C and +125°C to a digital word with ±0.25°C/±1℃ (typical/maximum) accuracy. The mcp9804t comes with user-programmable registers that provide flexibility temperature sensing applications. The registers allow user-selectable settings such as Shut down or low-power modes and the specification of temperature Alert window limits and Critical output limits. When the temperature changes beyond the specified boundary limits, the mcp9804t outputs an Alert signal. The user has the option of setting the Alert output signal polarity as an active-lowor active-high comparator output for thermostat operation, or as temperature Alert interrupt output for microprocessor-based systems. The Alert output can also be configured as a Critical temperature outputonly.
Parametrics
mcp9804t absolute maximum ratings: (1)VDD: 6.0V; (2)Voltage at All Input/Output Pins: GND – 0.3V to 6.0V; (3)Storage Temperature: -65°C to +150°C; (4)Ambient Temperature with Power Applied: -40°C to +125°CJunction Temperature (TJ): +150°C; (5)ESD Protection on All Pins (HBM:MM): (4 kV:400V)Latch-Up Current at Each Pin (25°C): ±200 mA.
Features
mcp9804t features: (1)User Programmable Temperature Alert Output; (2)Operating Voltage Range: 2.7V to 5.5V; (3)Operating Current: 200 μA (typical); (4)Shutdown Current: 0.1 μA (typical); (5)2-wire Interface: I2C/SMBus Compatible; (6)Available Packages: 2x3 DFN-8, MSOP-8.
Diagrams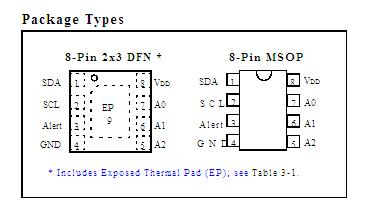 Image
Part No
Mfg
Description
Pricing
(USD)
Quantity

MCP9804T-E/MC

Microchip Technology

Board Mount Temperature Sensors 12-bit Therm Sensor Serial Hi-Accur

Data Sheet



| | |
| --- | --- |
| 0-1: | $1.09 |
| 1-10: | $1.01 |
| 10-25: | $0.84 |
| 25-100: | $0.76 |


MCP9804T-E/MS

Microchip Technology

Board Mount Temperature Sensors 12-bit Therm Sensor Serial Hi-Accur

Data Sheet



| | |
| --- | --- |
| 0-1800: | $0.76 |
| 1800-2500: | $0.76 |