Product Summary
The OPB806 slotted optical switch consists of an infrared emitting diode (LED) and a NPN silicon phototransistor, mounted on opposite sides of a 0.125 (3.175 mm) wide slot. The OPB806 has two sets of mounting tabs allowing Base or Side mounting of the device. The LED and phototransistor leads project from each side of the housing on 0.050 (1.27 mm) centers.
Parametrics
OPB806 absolute maximum ratings: (1)Storage & Operating Temperature Range: -40° C to +85° C; (2)Lead Soldering Temperature [1/16 inch (1.6mm) from the case for 5 sec. with soldering iron]: 260° C; (3)Continuous Forward Current: 50 mA; (4)Peak Forward Current (1 μs pulse width, 300 pps): 3 A; (5)Reverse Voltage: 2 V; (6)Power Dissipation: 100 mW; (7)Collector-Emitter Voltage: 30 V; (8)Emitter-Collector Voltage: 5 V; (9)Power Dissipation: 100 mW.
Features
OPB806 features: (1)Non-contact switching; (2)Base or side mounting; (3)0.125 (3.175 mm) slot width.
Diagrams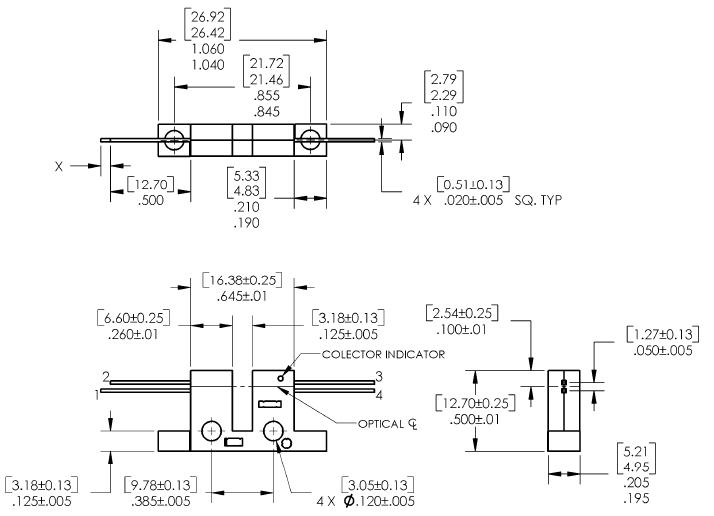 Image
Part No
Mfg
Description
Pricing
(USD)
Quantity

OPB806

Optek

Optical Switches, Transmissive, with Phototransistor Output Slotted Opt Switch

Data Sheet



| | |
| --- | --- |
| 0-1: | $1.86 |
| 1-50: | $1.79 |
| 50-100: | $1.73 |
| 100-250: | $1.68 |

Image
Part No
Mfg
Description
Pricing
(USD)
Quantity

OPB800L

Other



Data Sheet

Negotiable

OPB800L51

Optek

Optical Switches, Transmissive, with Phototransistor Output Wide Gap Opt Switch

Data Sheet



| | |
| --- | --- |
| 0-1: | $1.34 |
| 1-50: | $1.23 |
| 50-100: | $1.16 |
| 100-250: | $1.13 |


OPB800L55

Optek

Optical Switches, Transmissive, with Phototransistor Output Wide Gap Opt Switch

Data Sheet



| | |
| --- | --- |
| 0-1: | $1.35 |
| 1-10: | $1.31 |
| 10-100: | $1.20 |
| 100-250: | $1.11 |


OPB800W51

Optek

Optical Switches, Transmissive, with Phototransistor Output Wide Gap Opt Switch

Data Sheet



| | |
| --- | --- |
| 0-125: | $2.42 |
| 125-250: | $2.26 |
| 250-500: | $2.17 |


OPB800W51Z

Optek

Optical Switches, Transmissive, with Phototransistor Output Wide Gap Opt Switch

Data Sheet



| | |
| --- | --- |
| 0-1: | $2.69 |
| 1-50: | $2.37 |
| 50-100: | $2.00 |
| 100-250: | $1.91 |


OPB800W55

Optek

Optical Switches, Transmissive, with Phototransistor Output Wide Gap Opt Switch

Data Sheet



| | |
| --- | --- |
| 0-135: | $2.27 |
| 135-250: | $2.17 |
| 250-500: | $2.03 |