Product Summary
The ADM690AARNZ is a Microprocessor. The ADM690AARNZ offers complete single chip solutions for power supply monitoring and battery control functions in microprocessor systems. These functions include µP reset, backup battery switchover, watchdog timer, and power failure warning. The applications of the ADM690AARNZ are (1)Microprocessor Systems; (2)Computers; (3)Controllers; (4)Intelligent Instruments.
Parametrics
ADM690AARNZ absolute maximum ratings: (1)VCC: –0.3 V to +6 V; (2)VBATT: –0.3 V to +6 V; (3)All Other Inputs: –0.3 V to VCC + 0.3 V; (4)Input Current, VCC: 200 mA; (5)VBATT: 50 mA; (6)GND: 20 mA; (7)Digital Output Current:20 mA; (8)Power Dissipation: 400 mW; (9)Operating Temperature Range: –40°C to +85℃; (10)Lead Temperature (Soldering, 10 sec): +300℃; (11)Storage Temperature Range:–65 to +150℃; (12)ESD Rating: >4 kV.
Features
ADM690AARNZ features: (1)Precision Supply Voltage Monitor; (2)4.65 V ADM690A/ADM802L/ADM805L; (3)4.40 V ADM692A/ADM802M/ADM805M; (4)Reset Assertion Down to 1 V VCC; (5)Reset Timeout—200 ms; (6)Watchdog Timer—1.6 s; (7)100 mA Quiescent Supply Current; (8)Automatic Battery Backup Power Switching; (9)Voltage Monitor for Power Fail; (10)62% Power Fail Accuracy on ADM802L/M; (11)Space-Saving MicroSOIC Package (ADM690A).
Diagrams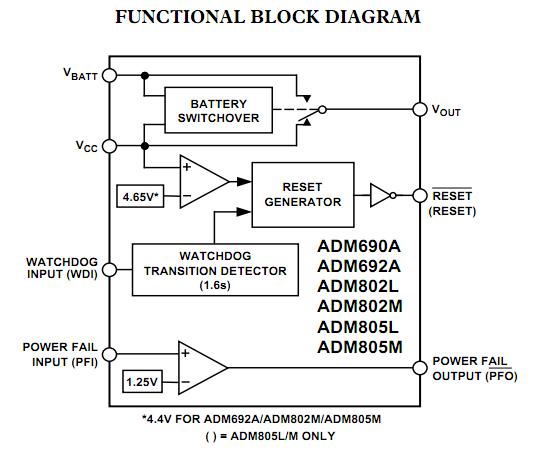 Image
Part No
Mfg
Description
Pricing
(USD)
Quantity

ADM690AARNZ



IC SUPERVISOR MPU 4.65 WD 8SOIC

Data Sheet



| | |
| --- | --- |
| 0-1: | $2.39 |
| 1-10: | $2.13 |
| 10-100: | $1.75 |
| 100-250: | $1.58 |
| 250-500: | $1.42 |
| 500-1000: | $1.19 |
| 1000-2500: | $1.14 |


ADM690AARNZ-REEL



IC SUPERVISOR MPU 4.65V WD 8SOIC

Data Sheet