Product Summary
The BTS5020-2EKA is a 20 mΩ dual channel Smart High-Side Power Switch, embedded in a PG-DSO-14-40 EP, Exposed Pad package, providing protective functions and diagnosis. The power transistor is built by an N-channel vertical power MOSFET with charge pump. The BTS5020-2EKA is integrated in Smart6 technology. It is specially designed to drive lamps up to 2 * P27W/P21W + R5W, as well as LEDs in the harsh automotive environment. The applications of the BTS5020-2EKA include: Suitable for resistive, inductive and capacitive loads, Replaces electromechanical relays, fuses and discrete circuits, Most suitable for loads with high inrush current, such as lamps.
Parametrics
BTS5020-2EKA absolute maximum ratings: (1)Supply voltage VS: -0.3 to 28 V; (2)Reverse polarity voltage -VS(REV): 0 to 16 V; (3)Supply voltage for short circuit protection VBAT(SC): 0 to 24 V; (4)Supply voltage for Load dump protection VS(LD): 41 V; (5)Current through INPUT pins IIN: -2 to 2 mA; (6)Current through DEN pin IDEN: -2 to 2 mA; (7)Junction temperature TJ: -40 to 150 ℃; (8)Storage temperature TSTG: -55 to 150 ℃.
Features
BTS5020-2EKA features: (1)Two channel device; (2)?ery low stand-by current; (3)3.3 V and 5 V compatible logic inputs; (4)Electrostatic discharge protection (ESD); (5)Optimized electromagnetic compatibility; (6)Logic ground independent from load ground; (7)Very low power DMOS leakage current in OFF state; (8)Green product (RoHS compliant); (9)AEC qualified.
Diagrams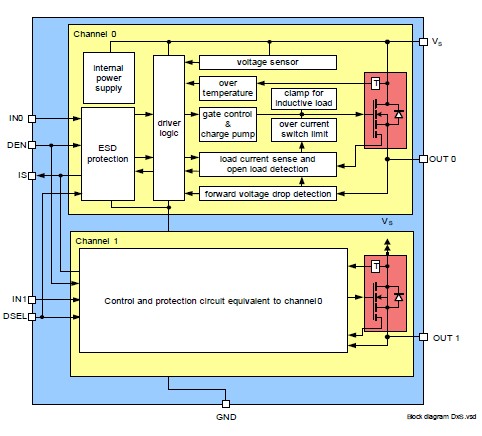 Image
Part No
Mfg
Description
Pricing
(USD)
Quantity

BTS5020-2EKA

Infineon Technologies

Power Switch ICs - POE / LAN PROFET +12V Smart Hi Side Pwr SW Dual

Data Sheet



| | |
| --- | --- |
| 0-1800: | $1.01 |
| 1800-2500: | $0.97 |
| 2500-5000: | $0.92 |

Image
Part No
Mfg
Description
Pricing
(USD)
Quantity

BTS50050-1EGA

Infineon Technologies

Power Switch ICs - POE / LAN HIC-PROFET

Data Sheet



| | |
| --- | --- |
| 0-605: | $1.82 |
| 605-1000: | $1.54 |
| 1000-2000: | $1.46 |
| 2000-5000: | $1.40 |


BTS50055-1TMA

Infineon Technologies

Power Switch ICs - Power Distribution Smart Hi-side Hi Currnt PWR Switch

Data Sheet



| | |
| --- | --- |
| 0-1: | $4.06 |
| 1-10: | $3.65 |
| 10-100: | $2.97 |
| 100-250: | $2.36 |


BTS50055-1TMB

Infineon Technologies

Power Switch ICs - Power Distribution SMART HI SIDE HI CURRENT PWR SWITCH

Data Sheet



| | |
| --- | --- |
| 0-245: | $2.77 |
| 245-250: | $2.50 |
| 250-500: | $2.24 |
| 500-1000: | $1.89 |


BTS50055-1TMC

Infineon Technologies

Power Switch ICs - Power Distribution SMART HI SIDE HI CURRENT PWR SWITCH

Data Sheet



| | |
| --- | --- |
| 0-605: | $2.33 |
| 605-1000: | $1.96 |
| 1000-2000: | $1.86 |


BTS50060-1EGA

Infineon Technologies

Power Switch ICs - POE / LAN HIC-PROFET

Data Sheet



| | |
| --- | --- |
| 0-605: | $1.73 |
| 605-1000: | $1.46 |
| 1000-2000: | $1.38 |
| 2000-5000: | $1.33 |


BTS50060-1TEA

Infineon Technologies

Power Switch ICs - POE / LAN Smart Hi-Side Pwr SW 1 Channel

Data Sheet



| | |
| --- | --- |
| 0-1790: | $1.13 |
| 1790-2500: | $1.07 |
| 2500-5000: | $1.03 |