Product Summary
The MCP3208-CI/SL is a 12-bit Analog-to-Digital (A/D) Converter with on-board sample and hold circuitry. The MCP3208-CI/SL is programmable to pro-vide four pseudo-differential input pairs or eight single-ended inputs. Differential Nonlinearity (DNL) is specified at ±1 LSB, while Integral Nonlinearity (INL) is offered in ±1 LSB (MCP3204/3208-B) and ±2 LSB (MCP3204/3208-C) versions. The applications of the MCP3208-CI/SL are (1)Sensor Interface; (2)Process Control; (3)Data Acquisition; (4)Battery Operated Systems.
Parametrics
MCP3208-CI/SL absolute maximum ratings: (1)VDD: 7.0V; (2)All inputs and outputs w.r.t. VSS: -0.6V to VDD +0.6V; (3)Storage temperature: -65 to +150℃; (4)Ambient temp. with power applied: -65 to +125℃; (5)Soldering temperature of leads (10 seconds): +300℃; (6)ESD protection on all pins: > 4 kV.
Features
MCP3208-CI/SL features: (1)4 (MCP3204) or 8 (MCP3208) input channels; (2)Analog inputs programmable as single-ended or pseudo-differential pairs; (3)On-chip sample and hold; (4)SPI serial interface (modes 0,0 and 1,1); (5)Single supply operation: 2.7V - 5.5V; (6)100 ksps max. sampling rate at VDD = 5V; (7)50 ksps max. sampling rate at VDD = 2.7V; (8)Low power CMOS technology.
Diagrams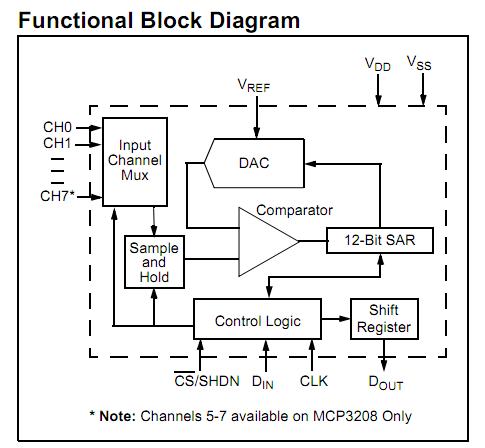 Image
Part No
Mfg
Description
Pricing
(USD)
Quantity

MCP3208-CI/SL

Microchip Technology

ADC (A/D Converters) 12-bit SPI 8 Chl

Data Sheet



| | |
| --- | --- |
| 0-1: | $2.20 |
| 1-10: | $2.09 |
| 10-25: | $1.74 |
| 25-100: | $1.58 |

Image
Part No
Mfg
Description
Pricing
(USD)
Quantity

MCP3001

Other



Data Sheet

Negotiable

MCP3001-I/MS

Microchip Technology

ADC (A/D Converters) 10-bit SPI Sgl Chl IND TEMP, MSOP8

Data Sheet



| | |
| --- | --- |
| 0-1: | $1.04 |
| 1-10: | $1.00 |
| 10-25: | $0.83 |
| 25-100: | $0.76 |


MCP3001-I/P

Microchip Technology

ADC (A/D Converters) 10-bit SPI Sgl Chl IND TEMP PDIP8

Data Sheet



| | |
| --- | --- |
| 0-1: | $1.04 |
| 1-10: | $1.00 |
| 10-25: | $0.83 |
| 25-100: | $0.76 |


MCP3001-I/SN

Microchip Technology

ADC (A/D Converters) 10-bit SPI Sgl Chl IND TEMP SOIC8

Data Sheet



| | |
| --- | --- |
| 0-1: | $1.04 |
| 1-10: | $1.00 |
| 10-25: | $0.83 |
| 25-100: | $0.76 |


MCP3001-I/ST

Microchip Technology

ADC (A/D Converters) 10-bit SPI Sgl Chl IND TEMP, TSSOP8

Data Sheet



| | |
| --- | --- |
| 0-1: | $1.04 |
| 1-10: | $1.00 |
| 10-25: | $0.83 |
| 25-100: | $0.76 |


MCP3001T-I/SN

Microchip Technology

ADC (A/D Converters) 10-bit SPI Sgl Chl IND TEMP, SOIC8

Data Sheet



| | |
| --- | --- |
| 0-2280: | $0.76 |
| 2280-3300: | $0.76 |