Product Summary
The MC34152DR2G is a dual noninverting high speed driver specifically designed for applications that require low current digital signals to drive large capacitive loads with high slew rates. The MC34152DR2G features low input current making them CMOS/LSTTL logic compatible, input hysteresis for fast output switching that is independent of input transition time, and two high current totem pole outputs ideally suited for driving power MOSFETs. Also included is an undervoltage lockout with hysteresis to prevent system erratic operation at low supply voltages. The MC34152DR2G is available in dual-in-line and surface mount packages.
Parametrics
MC34152DR2G absolute maximum ratings: (1)Power Supply Voltage VCC: 20 V; (2)Logic Inputs Vin -0.3 to +VCC V; (3)Drive Outputs, Totem Pole Sink or Source Current: 1.5A; (4)Diode Clamp Current (Drive Output to VCC): 1.0A; (5)Power Dissipation and Thermal Characteristics, Maximum Power Dissipation @ TA = 50℃: 0.56W; Thermal Resistance, Junction.to.Air: 180 ℃/W; (6)P Suffix, Plastic Package, Case 626: Maximum Power Dissipation @ TA = 50℃: 1.0W; Thermal Resistance, Junction to Air: 100 ℃/W; (7)Operating Junction Temperature TJ: +150 ℃; (8)Storage Temperature Range Tstg: -65 to +150 ℃; (9)Electrostatic Discharge Sensitivity (ESD), Human Body Model (HBM): 2000V; (10)Machine Model (MM): 200V.
Features
MC34152DR2G features: (1)Pb-Free Packages are Available; (2)Two Independent Channels with 1.5 A Totem Pole Outputs; (3)Output Rise and Fall Times of 15 ns with 1000 pF Load; (4)CMOS/LSTTL Compatible Inputs with Hysteresis; (5)Undervoltage Lockout with Hysteresis; (6)Low Standby Current; (7)Efficient High Frequency Operation; (8)Enhanced System Performance with Common Switching Regulator Control ICs; (9)NCV Prefix for Automotive and Other Applications Requiring Site and Control Changes.
Diagrams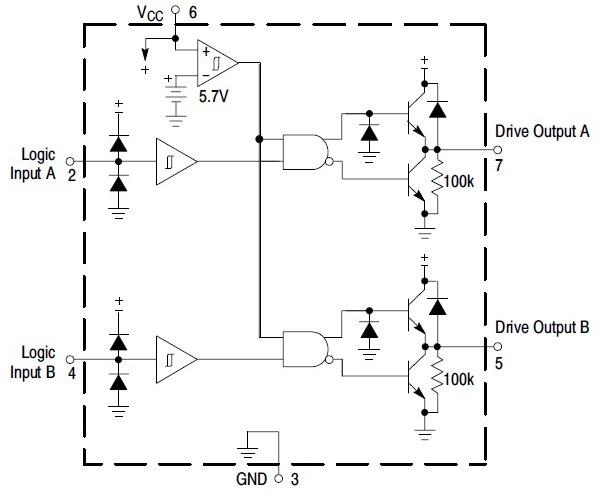 Image
Part No
Mfg
Description
Pricing
(USD)
Quantity

MC34152DR2G

ON Semiconductor

Power Driver ICs 1.5A High Speed Dual Non-Inverting MOSFET

Data Sheet



| | |
| --- | --- |
| 0-1: | $0.58 |
| 1-25: | $0.51 |
| 25-100: | $0.45 |
| 100-500: | $0.41 |

Image
Part No
Mfg
Description
Pricing
(USD)
Quantity

MC34001

Other



Data Sheet

Negotiable

MC34002

Other



Data Sheet

Negotiable

MC34002D

STMicroelectronics

Operational Amplifiers - Op Amps USE 511-TL072CD SO-8 DUAL OP AMP

Data Sheet

Negotiable

MC34002N

STMicroelectronics

Operational Amplifiers - Op Amps USE 511-TL072CN DIP-8 DUAL OP AMP

Data Sheet

Negotiable

MC34004

Other



Data Sheet

Negotiable

MC34011A

Other



Data Sheet

Negotiable